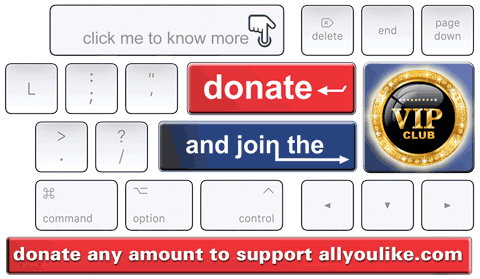 It's never too late to be a VIP member to enjoy the benefits and privileges but most of all HELP & SUPPORT ALLYOULIKE!
WHY BECOME A VIP MEMBER?
IT SUPPORTS THE ALLYOULIKE TEAM TO WORK HARDER AND BETTER
IT SUPPORTS ALLYOULIKE IN ALL ITS ENDEAVORS AND UNDERTAKINGS TO MAKE IT A BETTER SITE – WITHOUT annoying and malicious pop-ups and advertisements
ENJOY EXCLUSIVE CONTENTS FOR VIP MEMBERS ONLY
It will tremendously facilitate Maxdugan to change his decrepit 8-year old computer
Get Priority in Requests and Support
Direct Contact with Maxdugan and Maverick.
YOU CAN DONATE $100 FOR LIFETIME MEMBERSHIP
or $50 FOR 1 YEAR MEMBERSHIP
YOU CAN ALSO DONATE ANY AMOUNT
IF YOU WANT TO HELP AND SUPPORT
THANK YOU VERY MUCH
AFTER DONATING, PLEASE INFORM US BY EMAILING
ALLYOULIKE@GMAIL.COM
WITH THE AMOUNT YOU DONATED AND
THE EMAIL YOU USED FOR THE DONATION
SO WE CAN PROCESS YOUR VIP MEMBERSHIP
PLEASE INDICATE THE USERNAME THAT YOU WANT.
.