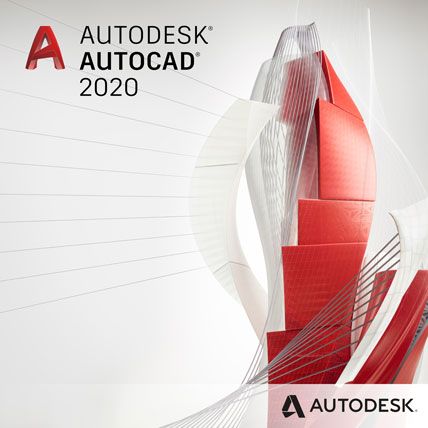 AutoCAD is the world leader among solutions for 2D and 3D design. Being more visual, 3D modeling allows to speed up design works and release of the documentation, to share models and develop new ideas. For AutoCAD thousands of add-ons are available, which allows satisfying the needs of a wide range of customers. It's time to design a new way – AutoCAD time.
AutoCAD 2020 allows you to solve the most complex design problems. By means of creating arbitrary forms, a variety of bodies and surfaces are modeled; The time for project verification is significantly reduced; Parametric drawings help to keep all the necessary information at hand. Project ideas can be visualized in PDF format, as well as implemented in mockups obtained through 3D printing. Even when ideas did not turn into reality so quickly.
What's new:
AutoCAD on any device
View, edit, and create drawings in AutoCAD on virtually any device–desktop, web, or mobile.
Access DWGs stored in the cloud with AutoCAD
Cloud storage connectivity
Access any DWG file in AutoCAD with Autodesk's cloud, as well as with leading cloud storage providers.
Video: Insert blocks efficiently with the visual Blocks palette"
Blocks palette
Insert blocks efficiently from a most recently used list with visual galleries. (video: 1:07 min.)
Video: Quickly display measurements by hovering your mouse
Quick measure
Display all nearby measurements in a drawing simply by hovering your mouse. (video: 37 sec.)
Enjoy new dark theme with sleek, modern blue interface
New dark theme
Reduce eye strain with contrast improvements, sharper icons, and a modern blue interface.
Video: Identify differences between 2 versions of a drawing or Xref
Enhanced DWG compare
Compare two versions of a drawing without leaving your current window. (video 1:05 min.)
Video: Easily clean drawings with redesigned Purge experience
Purge redesign
Remove multiple unneeded objects at once with easy selection and object preview. (video 1:11 min.)
Take advantage of performance improvements like faster save time
Performance improvements
Experience improvements in speed with faster save time and 50% faster install time for solid state hard drives.
Advantages of Autodesk AutoCAD 2020:
– Comparison using DWG
Compare and document the differences between the two versions of the same drawing (including drawings inserted by an external reference).
– Saving for use on the Internet and mobile applications
Keep drawings created on the desktop computer for viewing and editing in Web and mobile AutoCAD applications.
– 2D-graphics
Work with the scale, create panoramas, change the order of drawing and layer properties – and all this is 2 times faster.
– General views
Publish the drawing views in a web browser so that other users can study them and add comments.
– Web application AutoCAD
Create, edit and view CAD drawings, and share them from any device through the browser.
– Mobile application AutoCAD
View, create and edit CAD drawings on your mobile device, or work on them with colleagues.
– User interface
Significant improvement in interface design due to new flat icons and support for 4K resolution.
– Import PDF
Import geometry (including SHX font files), fill, bitmap images, and TrueType text into drawings from PDF files.
2023 VERSION
http://www.rarefile.net/7v26guv7d5e6/Autodesk.AutoCAD.v2023.0.1.rar
2022 VERSION
http://www.rarefile.net/77upowbl9m6b/Autodesk.AutoCAD.v2022.1.2.x64.rar
FOR WINDOWS
http://www.rarefile.net/ayfpn042swj4/AutoCAD.2020.Win64.part1.rar
http://www.rarefile.net/30b5d32o8606/AutoCAD.2020.Win64.part2.rar
http://www.rarefile.net/82o792h2z3z5/AutoCAD.2020.Win64.part3.rar
http://www.rarefile.net/y2nctf3zdsbu/AutoCAD.2020.Win64.part4.rar
http://www.rarefile.net/qkzk7vdrgemm/AutoCAD.2020.Win64.part5.rar
http://www.rarefile.net/k65dzgz1067u/AutoCAD.2020.Win64.part6.rar
http://www.rarefile.net/r74d3vav96i9/AutoCAD.2020.Win64.part7.rar
http://www.rarefile.net/cavxqj2jwv8h/AutoCAD.2020.Win64.part8.rar
FOR MAC
http://www.rarefile.net/ikbsje1edngb/AutoCAD.2020.for.MAC.part1.rar
http://www.rarefile.net/em0egnylmeta/AutoCAD.2020.for.MAC.part2.rar
http://www.rarefile.net/t38vmx5xqg2a/AutoCAD.2020.for.MAC.part3.rar
.