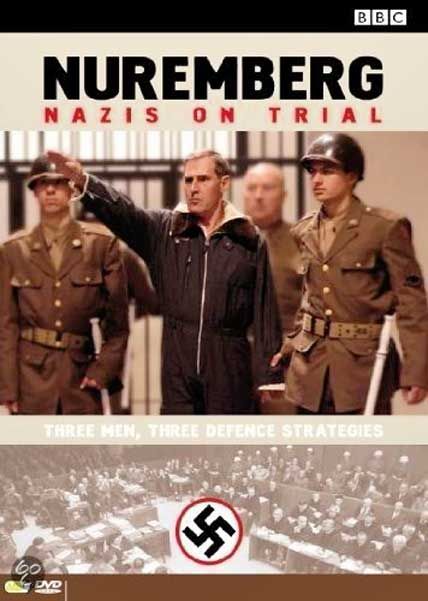 A fascinating insight into the Nuremberg trial looking at three key defendants; Hermann Goring, Rudolf Hess and Albert Speer – cut with the real footage from Nuremberg interspersed with the screenplay.
Nuremberg: Nazi's on Trial Narrated by Matthew Macfadyen
Part I: Nuremberg – Nazis on Trial – Albert Speer.
In the opening episode of this gripping landmark series, Nathaniel Parker provides a fascinating portrayal of the most inscrutable Nazi on trial at Nuremberg, Hitler's architect and armaments minister Albert Speer. He was the only defendant who unreservedly accepted responsibility for the Nazis' crimes. But was Speer's remorse genuine or just a clever defence strategy to get off the hook? The film tells the intriguing behind-the scenes-story of Speer's trial and his showdown with unrepentant rival, Hermann Goering.
Part II: Nuremberg – Nazis on Trial – Hermann Goering
Goering was Hitler's charismatic and ruthless second-in-command. On trial for his life, the unrepentant Reichsmarschall turned the tables on the Allies. This documentary drama looks at Goering's attempt to re-ignite Nazism from the courtroom and reveals the role that a Jewish psychologist played in Goering's final defeat.
Part III: Nuremberg – Nazis on Trial – Rudolf Hess
In the final episode of this gripping landmark series on the greatest trial in history, Ben Cross delivers a compelling performance as Hitler's deputy, Rudolf Hess. After his bizarre flight to Scotland in 1941 to offer peace to Britain, the Fuehrer had Hess declared insane. At Nuremberg, Hess's fitness for trial was at the centre of his case. He claimed not to remember his Nazi past and seemingly suffered from paranoid delusions. American psychiatrist Douglas Kelley (Stuart Bunce) and prison psychologist Gustave Gilbert (Adam Godley) sought to unlock the mystery of Hess's state of mind. What they found offers revealing insights into the psychology of Nazism.
http://www.rarefile.net/moxfnyd47wrn/Nuremberg.NazisOnTrial.part1.rar
http://www.rarefile.net/utiqh0y6jxdf/Nuremberg.NazisOnTrial.part2.rar
http://www.rarefile.net/ib3mxpqm5lub/Nuremberg.NazisOnTrial.part3.rar
http://www.rarefile.net/8jvqw753tgwb/Nuremberg.NazisOnTrial.part4.rar
http://www.rarefile.net/ubnvas571u6y/Nuremberg.NazisOnTrial.part5.rar
.